FAQs About New York Negligent Road Maintenance Cases
What is a Negligent Road Maintenance Case?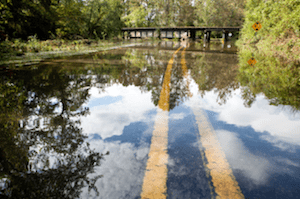 In a negligent road maintenance case, the injured car accident victim is claiming that the governmental owner of the road caused the accident by failing to properly repair or maintain the road, for example failing to repair potholes, signage, roadway striping, culverts, or failed to prevent flooding by fixing drainage issues, or allowed the roadway to freeze up by failing to properly plow or salt snow and ice. Negligent road maintenance cause thousands of car accidents every year throughout the USA. Our Syracuse negligent road maintenance lawyers have a lot of experience in this type of case because our upstate winters reap havoc on our Syracuse area roads. The villages, towns, counties and even the State are often too slow to repair or maintain the damaged roads. This delay causes accidents. We are there for the victims.
---
Can I Bring a Claim if I Was Injured in a Car Crash or as a Pedestrian Because of Poor Road Maintenance?
Yes. The Syracuse negligent road maintenance attorneys of Michaels Bersani Kalabanka have had ample experience representing injured victims of roadway maintenance failures such as potholes, missing signage, broken down traffic lights, flooded and icy or snow covered roads. In many such cases, the "owner" of the road can be held liable for the injuries suffered. Yes, you can bring a claim!
---
Who is the Claim Against?
It is the responsibility of the local or state government who owns the roadway to safely maintain it. This is in addition to its duty to safely design it. A good and safe design won't prevent accidents caused by poor maintenance, so both design and maintenance need to be adequate. A town, city, county or the State of New York (whichever owns the roadway) must make sure that its roads are safe for traveling motorists. This includes making reasonable attempts to repair potholes, repair old or deteriorated or broken signage, keeping traffic control devices such as traffic lights in good repair, salting and plowing snow, and maintaining the guardrails. The claim will be against the owner of the road.
---
What are the Most Common Types of Roadway Negligent Repair and Maintenance Cases?
Our negligent road maintenance attorneys in the Syracuse area have ample experience in all types of poor roadway maintenance cases against New York State and cities such as Syracuse, and local counties, towns and villages for failure to properly maintain their roadways. Most of the injuries are to motorists whose vehicles leave the roadway and crash into surrounding posts, trees or other objects, or whose vehicles are hurled into other vehicles, sometimes oncoming cars or trucks. But pedestrians who walk across or on roadways and are injured by potholes or other defects may also bring claims for negligent road maintenance, as can bicyclists.
Below is a list of some of the most common claims involving poor roadway maintenance:
Inadequate or broken traffic control devices at busy intersections;
Failure to replace signs that have fallen due to aging or adverse weather or prior accidents.
Failure to replace or repaint faded lane markings.
Inadequate road drainage maintenance so that the road floods and in winter freezes.
Failure to clean out culverts and other devices needed to drain the roadway.
Traffic light failure or malfunction due to inadequate maintenance.
Failure to properly mark off areas that are being worked on or to properly direct traffic at construction sites
Bridges poorly maintained causing their collapse or gaps or drop-offs to form.
Failure to maintain street lamps causing lack of proper visibility at night.
---
Are There any Special Laws About Suing for Injuries Caused by Poor Road Maintenance?
The law for suing a governmental entity such as the State, or a city, town, village or county in New York consists of a whole set of unique legal requirements that do not apply when you are suing the driver of a car or truck for your injuries. Here are some of those major unique requirements:
You must serve the governmental entity with a detailed document called a "notice of claim" (against a city, town, village or county) or a "notice of intention to file a claim" (against the State) within 90 days of the accident;
While the statute of limitations for suing is three years when you sue another motorist, it is shorter when suing a governmental entity for poor maintenance of the road. For cities, towns, villages and counties it is usually one year and 90 days. For the State, the time limit is usually 2 years. (These time limits will change if the injured person is a child or the victim is dead or mentally disabled and under some other limited circumstances).
In some cases, it is required that the injured plaintiff show that the government had "prior written notice" of a defect or hazard caused by poor maintenance. This requirement does not apply when suing a motorist, only when suing the governmental owner of the road.
If your negligent road maintenance lawyer, whether in the Syracuse area or another part of New York State, proves that your accident was caused by negligent maintenance or negligent repair, you may recover compensation from the government entity responsible for maintaining the road. Contact our Syracuse negligent road maintenance injury lawyers for a free consultation.