Bicycle Accidents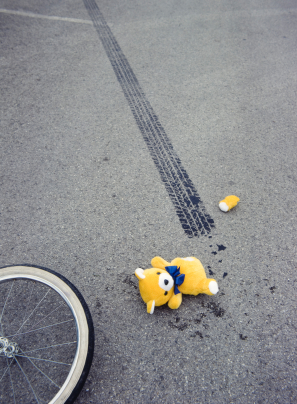 As Syracuse bicycle accident lawyers, we know first-hand about bicycles and about bicycle accidents. In fact, two of the lawyers at Michaels Bersani Kalabanka, Mike Bersani and Lee Michaels, are avid cyclists. Both of them have been involved in either "close calls" or actual accidents with motor vehicles while on their bikes. We are very sensitive and sympathetic to the claims of injured bicyclists. We know first-hand how cars and other vehicles don't see us. We know how vulnerable and unprotected we are on our bicycles. We know that motorists just don't see us, even when they are looking right at us. As bicycle accident lawyers, we believe we know better how to present a successful case on behalf of cyclists struck by cars, truck or other vehicles.
Every 6 hours a bicyclist in the USA is fatally injured. Approximately one million children are injured bicycle accidents every year. Three fourths of all serious injuries and fatalities on bicycles are due to head injuries. While collisions with motor vehicles account for only about a third of all bike accidents, they account for most of the catastrophic injuries and fatalities.
Some common types of car-on-bicycle accidents are caused by:
A motor vehicle turning left in front of a bicyclist (violating his right of way);
An automobile driver pulling out into the street from a driveway or parking lot in front of a bicyclist;
A motorist's failure to yield at an intersection to a cyclist;
A vehicle driver's inattention while driving past a bicyclist;
A driver's failure to see a bicyclist on the shoulder of the road.
Motor vehicle drivers are legally required to be attentive to all bicycle riders. They are required to share the road with them. They must respect a bicycle the same as they would respect another car. Unfortunately, often they don't, and this is what causes most serious injuries and deaths on bicycles. Our Syracuse bicycle accident lawyers are well equipped to prove, using photos, skid marks, witness statements, and other forensic evidence, that the collision was the motor vehicle driver's fault.
Under New York law, bicycle riders are subject to the same vehicle and traffic laws as motorists. If you are riding a bicycle, you must obey the traffic laws. Although you are required to follow all vehicle and traffic rules, just like a car (e.g., stop at stop signs and red lights), you also deserve the same protection those laws afford automobile drivers. Some special rules apply to bicyclists in New York. For example, they are allowed to ride two-abreast (but not more) on the roadway. They must ride as far to the right side of the roadway that they reasonably can. You can have one ear plugged into music or your phone, but you must keep one ear free. It is better and safer to keep both ears free.
We know the rules, we know bicycles, we know how to develop and present bicycle claims. We are bicyclists ourselves. We are here to help you if you are injured on your bicycle. In fact, we will also, for no fee, give you some very useful information on how to protect yourself and your family from the devastating effects of most bike accidents with very cheap additional car insurance called "SUM" (supplemental underinsured motorist) coverage. We recommend that you buy as much "SUM" coverage as you can. Your auto insurer will provide it very cheaply to you, and it will provide you will insurance coverage should a car, truck, or other motor vehicle, strike you while you are riding your bike. Call us for more information!
The Syracuse bicycle accident attorneys of Michaels Bersani Kalabanka have recovered millions of dollars for clients injured in bicycle accidents and for other injuries to cover their medical bills, lost earnings, pain and suffering, and more. If you or a loved one has been a victim of a bicycle accident, CONTACT US for a free consultation with an experienced lawyer who can inform you of your legal rights and maximize your compensation.