Truck and Tractor Trailer Accidents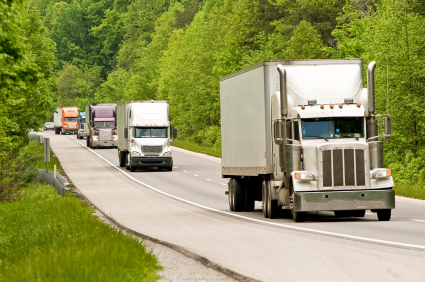 At Michaels Bersani Kalabanka, our Syracuse truck and tractor trailer accident lawyers know, from experience, that large trucks and tractor trailers cause devastating injuries to car and motorcycle drivers and passengers. The reason is obvious: Eighteen wheelers are a lot bigger and heavier than cars or other light-weight vehicles, and they can't stop as quickly. If a car collides with a tractor trailer, the resulting injuries can be severe, including crush injuries, paralysis, sever scarring, brain damage, amputations, severe back and neck injuries, broken bones, and death.
In sum, a significant impact between a big rig and a car leaves the car pulverized, and the occupants severely injured or dead.
Because these impacts are so dangerous, tractor trailer operation is highly regulated by both New York State and the Federal Department of Transportation. A responsible tractor trailer accident lawyer needs to be familiar with the codes, rules and regulations regarding tractor trailer maintenance, loading, securing of load, lighting, and logging of travel/rest time, rest requirements, commercial driver drug and alcohol testing, and many other regulations.
If a lawyer tells you a truck accident case is just a big type of car accident case, immediately seek other counsel. Truck accident cases are different, and more complex. In a car accident case, you can prove your case simply by showing that the defendant driver violated New York's Vehicle and Traffic law, which sets forth the "rules of the road" for all motor vehicles. But in truck accident cases, a good lawyer knows how to use a whole separate set of Federal and New York State rules and regulations that apply only to trucks and tractor trailers. Those rules include, for example, how many hours a truck driver can continuously drive, how heavy a load he can carry, how the load must be fastened, how a driving log must be kept, daily inspections, yearly checkups, and myriad other rules designed to keep the public safe from these very big, heavy, dangerous motor vehicles.
Tractor trailer drivers can cause accidents in many ways: Driver fatigue, speeding, poor tire or brake maintenance, overloading, following too closely, failing to yield to other vehicles, failing to obey stop signs or other traffic control signals such as red lights, cell phone use, CB radio use, speeding and many other acts of carelessness. The truck and tractor trailer accident lawyers at Michaels Bersani Kalabanka have seen it all in the Syracuse area. Commercial drivers are often in a hurry; time is money. They sometimes travel too fast for the weather or traffic conditions.
The tractor trailer or truck driver is not the only one liable for injuries caused by the negligence of the truck driver; the owner of the rig and cab and the employer, if they are different, are all liable as well. Syracuse truck and tractor trailer accident lawyers must carefully research all legally responsible parties and investigate their insurance policies to ensure that all possible insurance coverage is triggered so that the injured victim of the truck crash gets maximum compensation.
Victims of tractor trailer or commercial vehicle accidents are entitled to the same kind of compensation as the victims of ordinary car crashes, with one important difference; usually commercial vehicles are very well insured, with a million dollars or more of coverage, whereas many cars are insured for only $25,000 to $100,000. If you are injured by tractor trailer negligence, you can recover for your medical expenses, lost earnings, pain and suffering, loss of enjoyment of life and other damages.
Because the injuries are often so devastating, and so much insurance coverage exists, insurance carriers usually very vigorously defend truck accident cases. They are likely to try to shift blame to the innocent injured victim, or to minimize his or her injuries. They can, and do, sometimes hire "investigators" to trail them and to try to film them doing activities that they claim are inconsistent with the injuries. They can and sometimes do show these videos to juries to try to persuade them that the injured plaintiff is faking or exaggerating the injuries. In sum, they will often try every trick in the book to try to get out of paying the injured motorist the compensation she is entitled to. For these reasons, only a very experienced and competent New York trucking accident lawyer should handle this type of case.
Our truck and tractor trailer accident attorneys have helped Syracuse residents recover millions of dollars for clients injured in tractor trailer collisions and for other injuries to cover their medical bills, lost earnings, pain and suffering, and more. If you or a loved one has been a victim of a truck accident, contact us for a free consultation with an experienced lawyer who can inform you of your legal rights and maximize your compensation.
FAQs About Truck Accidents