Snowmobile Accidents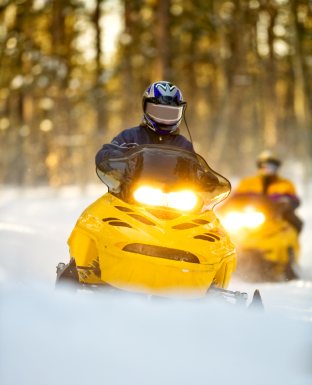 There are over 130,000 registered snowmobiles in New York State, and about 11,000 miles of official snowmobile trails. With all those snowmobiles and trails, it is not surprising that there are about 300 and 400 snowmobile accidents in New York State each year, and about 25 fatal ones.
Our Syracuse snowmobile accident lawyers have learned, from experience representing injured sledders, that Unsafe speed and alcohol, or often a combination of the two, cause of the majority of snowmobile accidents, at least in the Syracuse area where we work. When snowmobiles crash, it is usually with fixed objects, such as trees, after the snowmobiler loses control of his sled and leaves the trail. Crashes with other snowmobiles, cars or trucks, however, are not uncommon.
A New York snowmobiler needs to become familiar with New York State laws regulating snowmobiling. Our snowmobile accident lawyers serving Syracuse area accident victims are very familiar with them. For example, snowmobilers in New York need to register their snowmobile with the Department of Motor Vehicles if they are going to use it on any property other than their own. Snowmobiles also need to be covered by liability insurance. If you are on a snowmobile, you are required to wear a helmet. Local laws might contain additional rules on snowmobiling.
The state of New York does not require snowmobilers to have a driver's license. Those 18 or older can ride a snowmobile without any license or training, though a safety course is recommended. Children from ages 10 to 18 can ride a snowmobile without supervision if they have a certificate of competition of a safety-training course approved by New York State, or without this training course, they can ride only on land owned by their parents or under the supervision of an adult or over or someone between 10 and 18 who has the safety certificate.
Other important New York State snowmobile regulations include:
You must drive at a speed no greater than is reasonable or prudent under the surrounding conditions, with the absolute limit being 55 miles per hour.
You must have headlights on.
Snowmobiles are not allowed on the New York State Thruway, interstate highways, or limited access highways, except during snow emergencies.
Snowmobiles may be operated on the shoulders of highways, other than limited access highways, but only on highways posted for snowmobile use.
Snowmobiles may be operated on highways not posted for snowmobile use for a distance not to exceed 500 yards only to get to nearby operational areas or trails.
Snowmobiles may be driven on highways, other than limited access highways, when necessary for crossing a culvert or a bridge.
Snowmobiles can be operated on local highways which are customarily unplowed. These roads must be designated for such use by the governing authority.
Any Snowmobile use on a highway must be single file on the right side of the road.
Snowmobiles may cross a highway other than limited access highways, but only at a 90-degree angle, and only after coming to a complete stop first, provided that the snowmobile operator yields to oncoming traffic.
Some of the most important snowmobile safety tips are:
Always wear a properly fitted helmet.
Keep at a safe speed, reducing speed at night, in reduced visibility, and for curves.
Dress warm enough for the conditions.
Never ride under the influence of alcohol. Many snowmobile accidents are alcohol-related.
Most snowmobile accidents are caused by snowmobile operator error. Our snowmobile accident lawyers have represented many Syracuse victims of such errors. But snowmobile accidents can be caused by unsafe or poorly maintained trails. Also, special dangers for snowmobilers arise when they are crossing roads or riding along the side or shoulder of a road. Cars and trucks are bigger, heavier and faster than snowmobiles, and therefore, in a collision between a snowmobile and a car or truck, the snowmobile loses.
Snowmobile accidents can cause serious injuries, including brain injuries, spinal cord injuries, paralysis and even death. Traumatic brain injuries (TBI) are especially common, which is why helmets are so important - they drastically reduce the risk of TBI's.
The Syracuse snowmobile accident attorneys of Michaels Bersani Kalabanka have recovered millions of dollars for clients injured in snowmobile accidents and for other injuries to cover their medical bills, lost earnings, pain and suffering, and more. If you or a loved one has been a victim of a snowmobile accident, CONTACT US for a free consultation with an experienced lawyer who can inform you of your legal rights and maximize your compensation.