Boating Accidents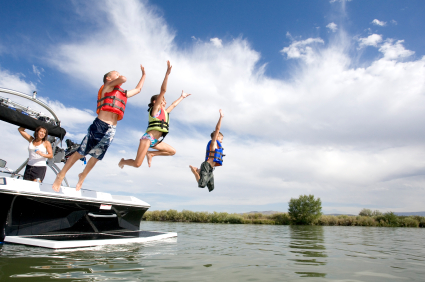 Central New York is brimming with beautiful lakes, including the Finger Lakes, Oneida Lake, Lake Erie, Lake Ontario and many others. Where there are lakes, there are boats, and where there are boats, there are boating accidents.
Like most accidents, boating accidents are preventable. At Michaels Bersani Kalabanka, our Syracuse NY boating accident lawyers have seen it all. Most boat accidents involve alcohol use, and many fatalities can be prevented if boaters use life jackets or other flotation devices. About 2/3 of boating fatalities are from drowning. Careless, reckless operation, operator inattention, no proper lookout and operator inexperience are top contributors to boating injuries and deaths.
Open motorboats, cabin motorboats, personal watercraft and jet skis are the most common types of watercraft involved in boating injuries.
Boating accidents happen in large part because people don't appreciate the dangers of boating. They think of boats as cars on water. They are not. The dangers are less obvious, but ever present. For example, you can't stop quickly in a boat, and boats don't have seat belts, so collisions in boats almost always cause severe injuries. Boaters are easily ejected from boats, and the ejected boaters can drown, especially if they don't know how to swim and aren't wearing a life jacket. Even if they know how to swim, boaters can be rendered unconscious by striking their head before falling overboard.
Unlike with cars, there are no absolute or posted "passenger limits" for most recreational boats. There are only rules of thumb for determining a boat's passenger capacity. Generally, you multiply the boat's length by its width and divide then by 15, to get the "passenger capacity". Overloading a boat can cause capsizing or other catastrophes. As experienced boating injury lawyers in Syracuse and the surrounding lakes, we know from experience many of these rules of thumb.
Boaters are especially prone to accidents at night. Other boats might not have proper lighting, and there may be debris or other unlit obstacles the boat collides into.
Jet skiing, fishing, water skiing and tubing are all popular water sport activities. Accidents happen during all of these activities, especially when they are combined with drinking alcohol.
A boating accident lawyer knows that the same rules that apply to car accidents don't necessarily apply to boating accidents. There are regulations and rules of the waterway that an attorney must know in order to be competent in this field. Boating accident lawyers also know how to investigate boating accidents and how to gather all the key evidence before it disappears.
Boating accidents can cause serious injuries, including brain injuries, spinal cord injuries, paralysis and even death.
There are boating and watercraft regulations specific to New York State. New York has specific requirements for operating boats and personal watercraft ("PWC").
Here are some of the main rules that apply in New York State, including in the Syracuse area, to non-PWC watercraft:
Any child under 12 on a boat less than 65 feet long must wear a life vest at all times when the boat is moving.
There must be a life jacket available for every passenger.
Children under 10 may not operate a motorized vessel.
Children ages 10 to 17 may only operate a motorized boat only when supervised by an adult who is at least 18, unless they have successfully completed an approved boating safety course.
Here are some of the main rules that apply to PWC (jet skis, etc.):
An 8-hour course based boating safety course and successful completion of a proctored exam (offered by the U.S. Coast Guard Auxiliary and the U.S. Power Squadrons and other groups) is required for EVERYONE before they can operate a PWC on any waters in New York.
All PWC operators must be at least 14.
The Syracuse, New York boat accident attorneys of Michaels Bersani Kalabanka have recovered millions of dollars for clients injured in boating accidents and for other injuries to cover their medical bills, lost earnings, pain and suffering, and more. If you or a loved one has been a victim of a boat accident, CONTACT US for a free consultation with an experienced lawyer who can inform you of your legal rights and maximize your compensation.