Construction Equipment or Machinery Accidents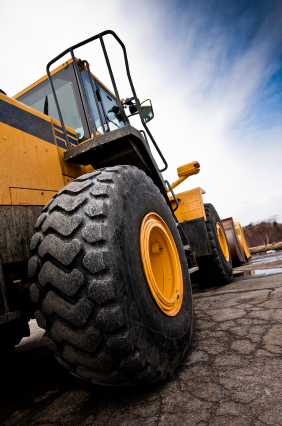 Construction equipment and machinery are often to blame for construction worker accidents. Our Syracuse construction equipment and machinery accident lawyers have seen a lot of this. Actually, not the equipment itself, but those who designed it, maintained it, or used it improperly. Forklifts accidents, backhoe accidents, scissor lift accidents, masonry machinery accidents, hydraulic jack accidents, crane accidents, front-end loader accidents, boom accidents --- all these and many more construction machines and equipment cause innumerable accidents and injuries every year in New York and elsewhere. But almost all circumstances, these accidents are not just "accidental". They are caused by someone's negligence or carelessness. Construction machinery and equipment is safe only when (1) it is designed and manufactured safely; (2) the workers who use the construction equipment and machinery are properly trained and supervised; (3) the workers who use the construction equipment and machinery do so safely and properly; (4) the construction equipment and machinery is properly maintained; and (5) the construction equipment and machinery is equipped with proper warnings.
Construction equipment or machinery failure falls into two broad categories: (1) Where the machine or equipment itself was not properly designed or manufactured, or lacked proper warnings, thus making it unsafe, the injured construction worker may have a "products liability" or a "defective products" case. In those cases, the manufacturer and seller of the equipment or machinery must be sued. (2) Where the construction equipment or machinery caused injury because of the way it was MAINTAINED or USED, this is more likely a labor law case, and a contractor, or construction site owner, or both, must be sued. More than likely, some OSHA or New York State Industrial Code regulations were violated. Our construction equipment and machinery accident lawyers who represent workers in the Syracuse community are intimately familiar with the relevant OSHA and New York regulations.
Almost any tool or piece of equipment, machine or tool can fail, or be misused, causing injury to construction workers. For example, the injury to construction workers can be caused by a failed hydraulic pumps; or faulty compressed air lines, defective cables, improperly erected ladders, loose parts from a tool of any kind, defective drills, badly designed saws, malfunctioning pumps, flawed bulldozers, dangerously designed or used forklifts, untrained crane operation, unchecked wrecking balls, backhoe misuse, rotten wooden pallets --- all of these, and more, can cause serious injuries on a construction site. Even parts as small as nails, bits, blades, bolts and screws can go flying off and cause injury where the machinery or equipment that housed them or the tool that was being used on them fails, was used improperly, or was defective. It's no wonder there are so many construction site injuries, with so much that go wrong.
Another type of construction accident case is where a worker is injured because he was not provided with, or instructed about, proper safety devices such as goggles, helmets, breathing masks, nets, safety harnesses, lanyards, etc. For example, a worker who breaths without a mask while sandblasting old bricks will breath in harmful dust and particles. He may not notice any problem with his lungs for years, but when he does, it will generally likely suffer from an irreversible and extremely debilitating condition. Or a worker who is not instructed to use goggles while hammering nails may lose an eye when a nail jumps back at his face. There are countless ways workers are injured because they were not given, or instructed about, the proper use of safety devices.
The Syracuse construction equipment and machinery accident lawyers of Michaels Bersani Kalabanka have recovered millions of dollars for clients injured in construction accidents and for other injuries to cover their medical bills, lost earnings, pain and suffering, and more. If you or a loved one has been a victim of a construction accident, contact us for a free consultation with an experienced lawyer who can inform you of your legal rights and maximize your compensation.