Car Accidents / Automobile Accidents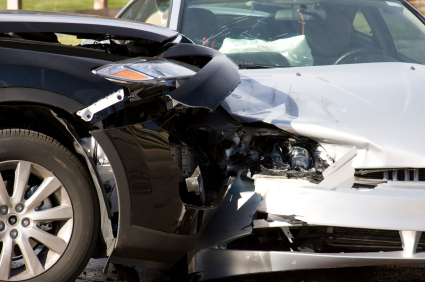 Car crashes don't usually just "happen". Almost always a driver causes them to happen by failing to obey traffic rules, or by negligence or carelessness. More and more auto accidents are caused by driver distraction with cell phones, GPS navigators, texting, or other electronic devices. Many car accidents are caused by drivers failing to obey stop signs, failing to stop and red lights, failing to yield to the other vehicle with the right of way, speeding, following too closely, or simply failing to see what was clearly there to see. There are more accidents at night than in daylight because of driver fatigue, because more drivers have been drinking at night, and because of reduced visibility.
Although there are all types of injuries in car crashes, most typical are whiplash, also called "soft tissue injury", concussions, head injuries, neck injuries, back injuries, herniated discs, broken right foot (when it is on the brake in a frontal collision), broken bones and scarring and bruising injuries from impact, loss of fetus, paralysis and even death.
From a New York legal point of view, if you're going to get injured, getting injured in a car accident is both the "best of worlds" and the "worst of worlds".
It is the "best of worlds" because you are automatically entitled to "no-fault" benefits (from the insurance of the car you were in), even if the accident was your fault. No-fault benefits generally consist of a maximum of $50,000 in combined payment of medical expenses and lost income. In contrast, in other types of accident cases, you are generally entitled to nothing, not even medical expenses and lost income, unless you can prove the defendant was at-fault for your accident.
But although no-fault benefits are a nice "perk" (if you can call it that!) of being injured in a car accident rather than in some other way, there is a down side, too: Your compensation is limited to no-fault benefits, unless you have suffered a "serious injury" as defined under New York Insurance Law 5102. To summarize the "serious injury" requirement, the accident must have caused you to either be killed, lose a fetus, sustain a fractured bone (even a hairline fracture will do!), have a significant scar, be unable to engage in most of your normal daily activities for at least 90 out of the first 180 days, or suffer a permanent significant loss of movement or use of a body part (such as a shoulder, your neck, your leg, etc.). This is just a summary, and there are lots of nuances, so don't just rely on this list; check with a New York car accident lawyer to see whether you may have suffered a "serious injury" entitling you to compensation beyond "no-fault" benefits.
If you DO have a serious injury from a car accident, what kind of compensation can you get beyond your no-fault benefits? First, you can get any medical benefits or lost wages not covered by no-fault, but, importantly, you can also get pain and suffering compensation. All these non-no-fault benefits come from the insurance carrier for the at-fault vehicle, and if the at-fault driver was not the owner of the car, also sometimes from that driver's insurance.
To learn more about car accidents, go back to our MOTOR VEHICLE ACCIDENTS button
The Syracuse car accident attorneys of Michaels Bersani Kalabanka have recovered millions of dollars for clients injured in automobile collisions and for other injuries to cover their medical bills, lost earnings, pain and suffering, and more. If you or a loved one has been a victim of a car accident, contact us for a free consultation with an experienced lawyer who can inform you of your legal rights and maximize your compensation.
For answers to commonly asked questions about motor vehicle accident cases, go to our FAQ's on these subjects: