Community Involvement
Michaels Bersani Kalabanka as a firm, and its Syracuse and Auburn NY personal injury lawyers as individuals, gives generously in time and money to its Community. Here are some of the many organizations we support financially and with our time: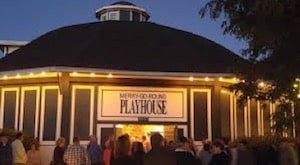 Owasco NY's Merry-Go-Round Theater. We have for many years sponsored the Merry-Go-Round Theatre splendid Musical productions. M&S partner Jan Smolak has been a Board member for Over 13 years and has served as its Board president for two years.
---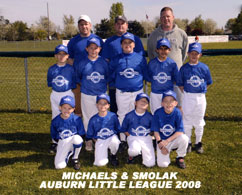 Auburn Little League Team. The Michaels Bersani Kalabanka Central New York personal injury lawyers purchased the Auburn Little League Score Board. Also, the Auburn Pony League "Michaels Bersani Kalabanka" team wears our name on their jerseys. GO M&S TEAM!!
---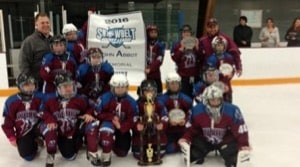 We sponsor youth hockey teams and broadcasts for youth hockey
---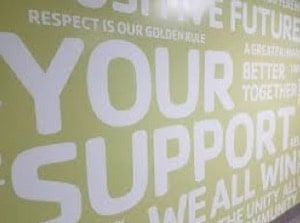 Auburn YMCA. Every year our Auburn and Syracuse NY personal injury law firm gives generously to the Auburn Bowl-a-Thon fundraiser. In addition, M&S partner Michael Bersani served on the Y's Board for a decade and was its president for two years.
Geneva YMCA. Mike Bersani, who lives in Geneva, makes sure M&S supports this Y, too. He is currently a board member.
---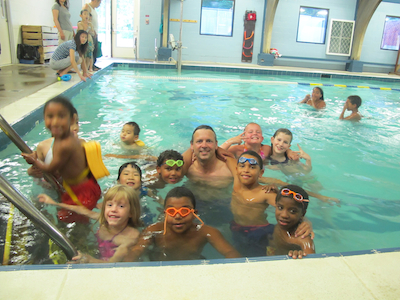 Boys & Girls Club of Geneva. M&S partner Mike Bersani (seen in photo above) sat on the Board for a decade and was its president for two years. For many years, when the B&G Club had its Bowl-a-Thons, the Syracuse personal injury lawyers of Michaels Bersani Kalabanka were lead sponsors. We continue to contribute to the Club's annual foot race. In addition, for many years Mike took Boys & Girls Club members to the local YMCA pool on Fridays after work. Here's Mike with the kids:
---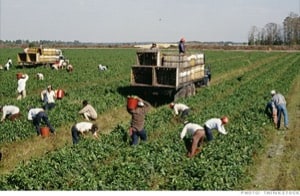 Worker Justice Center of New York (formerly known as Farmworkers Legal Services of New York). M&S's Syracuse NY personal injury lawyer Mike Bersani has served on their Board for almost two decades. In addition, Mike – who is fluent in Spanish – gives free legal help to Spanish-speaking farmworkers.
---
Mike Bersani was awarded Citizen of Year by Geneva Chamber of Commerce in 2009. For his efforts with immigrants and the Boys & Girls Club of Geneva. Read all about it HERE
---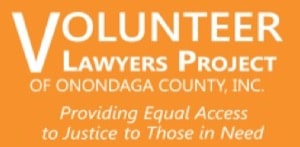 Pro Bono Legal Services. All attorneys at M&S perform pro bono legal services. Currently, attorneys Jan Smolak and Mike Bersani are volunteering with the Volunteer Lawyers Project of Onondaga County.
---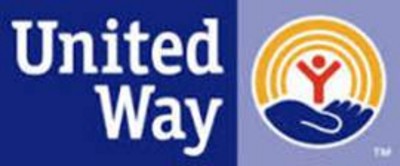 Cayuga County United Way. M&S founding member Lee Michaels has served as President of the Cayuga County United Way, campaign co-chairman, and was also on the New York State United Way board. M&S member Jan Smolak was on the United Way's professional fundraisers committee for two years. Michaels Bersani Kalabanka has previously honored United Way of Cayuga County volunteers as "hometown heroes" at Auburn "Doubledays" (our pro baseball team) home games.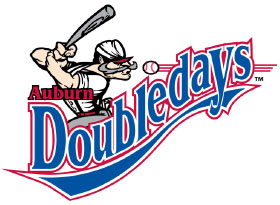 How did this Michaels Bersani Kalabanka charitable program work? We asked the United Way of Cayuga County to nominate volunteer "heroes". They choose dozens of volunteers who worked with their 23 partner agencies and 41 programs throughout Cayuga County. At each home game, one United Way volunteer was publicly recognized and honored as a "hometown hero" and received six game tickets and food vouchers for his or her family and friends. A different volunteer was honored at each home game. Michaels Bersani Kalabanka funded the program, including the free tickets and food, for the "hometown heroes".
---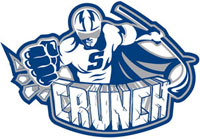 Syracuse Crunch (pro-hockey). During the fall and winter, the personal injury law firm of Michaels Bersani Kalabanka has sponsored a similar program in Syracuse, NY, called "Everyday Heroes". At each home game of the Syracuse Crunch hockey team we honored local volunteers who had been nominated by friends and co-workers. They got recognized in public as "everyday heroes" and received free food and tickets for themselves and their family.
---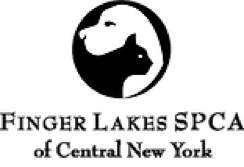 Finger Lakes SPCA of Central New York. We love our pets! We recently did a "matching donation" campaign challenging others to "match" our donation.
---
Owasco Zoning Board of Appeals. M&S partners Jan Smolak and Dave Kalabanka have served on this zoning board. Dave still does and is the chairman.
---
Geneva Human Rights Commission. M&S partner Mike Bersani served on its Board for eight years and was its Board President for two years.
---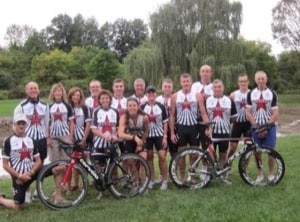 Michaels Bersani Kalabanka Bicycle Racing Club. That's right, we have our own Bicycle Racing Club, "MSR" (Michaels & Smolak Racing). Those cute bike racing jerseys were purchased by you-know-who.
---
Here are some other organizations our Syracuse/Auburn law firm and personal injury attorneys continuously support financially and with our time:
Auburn's "Majorpalooza". A group that raises awareness and support for foster children who are underprivileged, disabled or afflicted by life threatening medical conditions.
The Auburn Great Race. An Auburn landmark annual run, bike, canoe race. M&S founding member Lee Michaels has been on its Board for more than two decades.
The Owasco Flyer (local annual bicycle race).
Big Brother/Big Sisters of Cayuga County. M&S Lawyer Jan Smolak has served on its Board.
Cayuga County Boy Scout Council. M&S lawyer Jan Smolak, an Eagle Scout, has served on its Board.
Schweinfurth Memorial Art Center. Attorney Dave Kalabanka has served on its Board.
Cayuga County Cornell Cooperative Extension. Dave Kalabanka has served on its Board.
Cayuga County Chapter of the American Cancer Society. David Kalabanka also previously served on this Board.
Auburn High School Boys Hockey. (Check out our ad on the Zamboni ad and our sign at the rink!). Attorney Dave Kalabanka regularly volunteers to man the scoreboard. Go Maroons!
Congregstion B'nai Israel. Founding partner Lee Michaels was the president of this congregation for two years.
The Matthew House. Hospice care.
Brian Bisgrove Home for Courage. A retreat and respite home for families with children who have life threatening illnesses or severely debilitating medical conditions.
Auburn Babe Ruth League
Skaneateles High School Girls Hockey
Jordan Elbridge School District theatrical productions
Onondaga Community College Women's Basketball. Congrats to the Lady Lazers for clinching the Section III Championship Title in 2018!
Cayuga Sound Festival
Auburn Rotary Club Rhythm and Blues Festival
Auburn Lacrosse
Auburn Football
Auburn Basketball
Weedsport Basketball
Mynderse Boys Basketball
Mid- Lakes Girls Basket Ball
Auburn Hockey Boosters
Are there more groups and causes we have supported? Sure, but we can't remember them all!