Ladder Accidents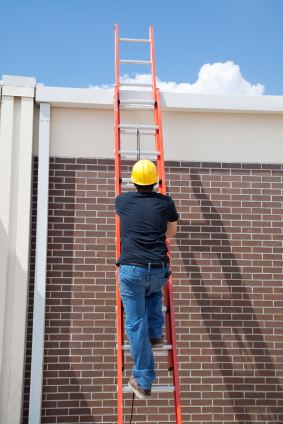 Our Syracuse ladder accident lawyers know that "ladder safety is no accident". To avoid such accidents, strict ladder safety rules need to be adhered to. Generally, ladders on a New York construction site must be braced, tied or otherwise secured before a worker can climb up or down them, or work from them. An unsecured ladder is an accident waiting to happen. Workers fall from all kinds of ladders, including step ladders, extension ladders with rubber feet, extension ladders with metal feet, rolling safety ladders, folding ladders, and platform steps. Each type of ladder has a proper and improper method of use. Rules must be followed, and when they are not, accidents happen.
If a ladder falls, fails, or collapses or a worker falls from the ladder because he was not properly secured, he almost always has a valid lawsuit under labor Law section 240 against the owner of the worksite, the general contractor, and other contractors or subcontractors. Unless the accident was 100% the worker's fault, that is, his own negligence was the SOLE cause of his fall, he will almost certainly have a valid lawsuit against these others, and will recover 100% of his lost income, medical expenses and pain and suffering compensation.
By the way, New York insurance lobbyists have tried for years to get Albany to kill Labor Law section 240, which protects workers who fall from ladders and scaffolds and other heights, but the ladder accident lawyers at the Syracuse New York firm of Michaels Bersani Kalabanka have fought back with other lawyers, thus keeping the law on the books where it protects New York construction workers.
New York's Labor Law 240, which was specifically enacted many years ago to protect workers from falls from ladders and scaffolds, is unique in the United States. No other State has such a strict statute that makes the owner of the construction site and the general contractor, and any of their agents, fully liable to a worker for injuries caused by his fall from a ladder or scaffold, even when the worker himself may have been largely to blame for the accident.
Why such a strict, pro-worker rule? New York's legislature saw that man construction workers, and other workers who work at heights, were falling to their death, or were getting severely injured, when ladders and scaffolds failed, or when workers were improperly secured. They also saw that the construction site owner and the contractors were very adept at blaming the worker for the ladder or scaffold failure. They decided that the only way to minimize such horrific injuries was to make the owner and general contractor strictly liable for such falls. That way, they will ensure that everyone, including the workers, follow the proper safety rules. In other words, "the buck stops here", that is, at the desk of the construction site owner and the general contractor.
Big insurance and construction industry lobbies have, over the years, thrown lots of money at Albany legislatures in an effort to repeal or at least soften Labor law 240. Ladder accident lawyers in the Syracuse area and elsewhere in New York have opposed their efforts. So far, thankfully, the insurance and construction lobby efforts have failed. Thus, workers who fall from ladders and scaffolds still have, in most cases, very strong personal injury cases. Unfortunately, they also cause some of the worst injuries.
The pain and suffering can be excruciating, and the loss of enjoyment of life heartbreaking.
The Syracuse ladder accident lawyers of Michaels Bersani Kalabanka have recovered millions of dollars for clients injured in construction accidents and for other injuries to cover their medical bills, lost earnings, pain and suffering, and more. If you or a loved one has been a victim of a construction accident, contact us for a free consultation with an experienced lawyer who can inform you of your legal rights and maximize your compensation.